SAVE $3,960.00/Year or More!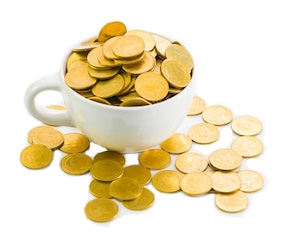 In these challenging economic times were all trying to save wherever we can. But saving doesn't have to mean cutting back or compromising on the quality of the coffee you drink. In fact quite the opposite — change can sometimes bring nice surprises like better flavour. It just means buying and consuming our products differently.
Here's How You Can Save by ordering your coffee on-line:
2 lb. of fresh roasted beans delivered to your home or office will make about 100 (6 oz. cups) of coffee at an average cost of about 35 cents a cup. That same 100 cups of coffee purchased in-store will cost an average of about $200.00 or about $2.00 per cup. Thats a savings of $165.00.
The average coffee drinker consumes 1 lb. of fresh roasted beans every 2 weeks. Thats a saving of $165.00 every month or a staggering $1,980.00 every year. Now if you're like us and consume 1 lb. of coffee a week you can double your savings to $3,960.00/year.
The really amazing thing about Hockley Valley Coffee™ is that you're guaranteed to receive a fresher, more flavorful coffee experience while saving money.
Email us and tell us what you are going to do with your coffee savings… here's a sample of what we have received so far.
"My husband and I have been setting off to work with our travel mugs full of your Brazilian dark roast every morning and have skipped our ten minute wait in-line at our local coffee shop. Our monthly savings are now over $200 per month or $2,400.00 /per year. We are going to save that money and pay off our mortgage."
Kathy in Toronto
"I grind my Hockley Valley Coffee at home and take it to the office in a sealable container – the aroma is pure heaven when I open the lid. I have completely cut out my 6$ a day habit at _ _ _ _ _ _ _ _ _ _. Thats 30 bucks a week that's going towards my trip to Florida."
Larry in Hamilton
"If home brewing great coffee wasn't so simple, the money I have wasted over the years wouldn't be so sad. I guess it's never too late to start paying myself by brewing a better fresher cup at home."
Bob in Bolton
"Not sure if any of your other customers have been using your roasted beans to make cold coffees? Between my kids and husband we have been saving about $80 a week home brewing. Your Columbian and Brazilian medium roasts are to die for. We'll take our $4,000 a year savings and do just that save for our retirement."
Sarah in Barrie